Angashion Fall Outfits - Embrace the Season in Style
Angashion Fall Outfits - Embrace the Season in Style
As the leaves change and the temperature drops, it's time to refresh your wardrobe with stylish and cozy fall outfits. Angashion offers a wide range of trendy options to help you look your best during this autumn season. In this blog post, we'll explore some of the hottest Angashion fall outfits, provide fashion tips, and inspire you to create your perfect fall look.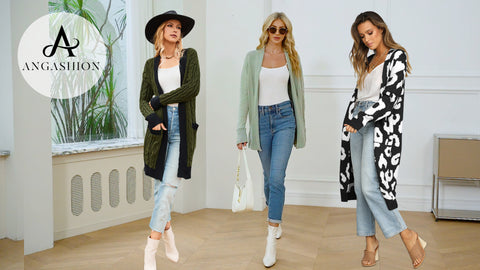 Angashion Fall Fashion Inspiration
Fall is all about layering and embracing warm, earthy tones. Angashion's fall collection combines comfort and style effortlessly. Here are some outfit ideas to keep you fashionable and cozy:
Sweater Weather: Pair an oversized Angashion sweater with skinny jeans and ankle boots. Complete the look with a statement belt to accentuate your waist.

Plaid Perfection: A plaid Angashion dress is a versatile choice. Wear it with knee-high boots and a faux leather jacket for a chic fall ensemble.

Cozy Cardigans: Opt for a long Angashion cardigan as your go-to layering piece. Throw it over a simple tee and jeans for an effortlessly stylish look.

Knit Jumpsuit: Try an Angashion knit jumpsuit for a trendy one-piece outfit. Add a wide-brimmed hat and chunky heels for a fashion-forward appearance.

Boho Vibes: Embrace your inner bohemian with an Angashion maxi dress. Layer with a denim jacket and accessorize with statement jewelry.
Fashion Tips for Angashion Fall Outfits
Incorporate autumn colors like deep burgundy, olive green, and mustard yellow into your outfits.


Don't forget to accessorize with scarves, hats, and statement jewelry to elevate your look.


Invest in quality boots and booties to complete your fall ensemble with style and comfort.
FAQ
Q1: Where can I purchase Angashion fall outfits? A1: You can find Angashion fall outfits on their official website or through select online retailers.
Conclusion
Fall is the perfect time to experiment with your style, and Angashion's fall outfits offer an array of options to do just that. Whether you're into cozy sweaters, elegant dresses, or casual cardigans, Angashion has something for everyone. Embrace the season in style and enjoy the beauty of autumn while looking your best. Don't forget to check out their website for the latest fall fashion trends and updates.